Y- Factor, Ranchi, 2014
May 18, 2014 at 13:12 PM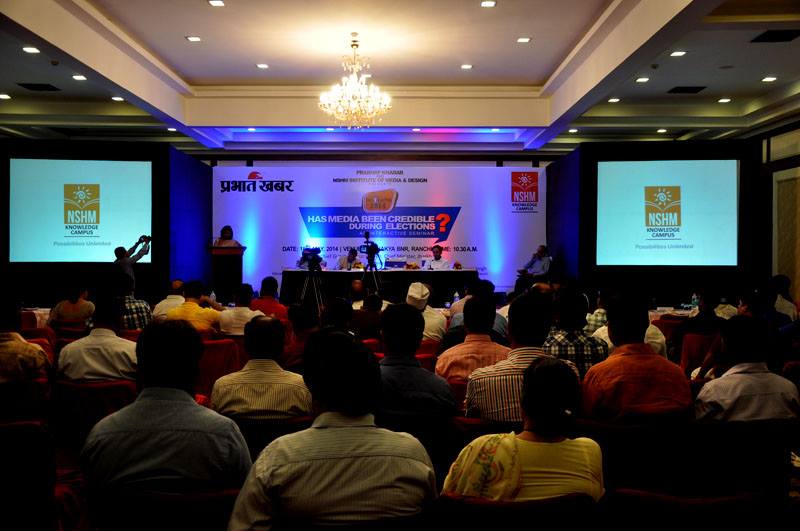 "Role of Media in Social and Political Change is very crucial:  Getashree Oraon, Education Minister, Jharkhand'
NSHM Institute of Media & Design's interactive seminar Y Factor was a huge hit at Ranchi on 18th of May, 2014. This interactive seminar was organized in association with the leading News Paper of Jharkhand, Prabhat Khabar. Education Minister of Jharkhand, Smt Geetashree Oraon inaugurated the seminar along with Uttam Sengupta, Deputy Editor of Outlook, Harivans, Member of Parliament(Rajyasabha) and Chief Editor, Prabhat Khabar & Gopal Singh, CMD. CCL.
More than 200 eminent personalities of Ranchi attended the interactive seminar and participated in the question hour round.
Mr Rajiv Chanda, Director & Co-founder of NSHM knowledge campus welcomed the speakers with momentos and flowers. Dr Jhuma Basak and Dr Buroshiva Dasgupta, Director, NIMD were the moderator for the seminar.
Senior journalist Uttam Sengupta focussed on the changing trend of media coverage of elections and stated that most of the media houses are following the style of American election coverage by US media houses.
Shri Harivans was of the opinion that real issues of the society and politics are not being covered by media houses in a justified manner by media houses during elections. He said that society at large is losing its faith in morality and simple living. People today are being driven by greed, lust and anger and these three things can destroy a whole civilization. Real challenge to Media is from this greedy mentality.
Education Minister Smt Geetashree oraon said that education is the key to build a society. So more focus should be on education from primary level to higher education. We need a young generation which will think and not blindly follow the western values and culture. Media's role in changing the society is very important.
Representing the corporate sector, CMD Gopal Singh said that corporate should be given an opportunity to participate in nation building. Media & corporate sector can play a very crucial role in changing the system.
After the seminar, all the speakers and guests were seen discussing various issues over lunch hosted by NSHM at BNR's Darbar Hall.
The seminar was attended and covered by journalists from print and electronic media.

Picture 1

Picture 2

Picture 3

Picture 4

Picture 5

Picture 6

Picture 7

Picture 8

Picture 9