National Nutrition Month 2021 – CONVERGING TOWARDS A HEALTHY WALK -THROUGH LIFE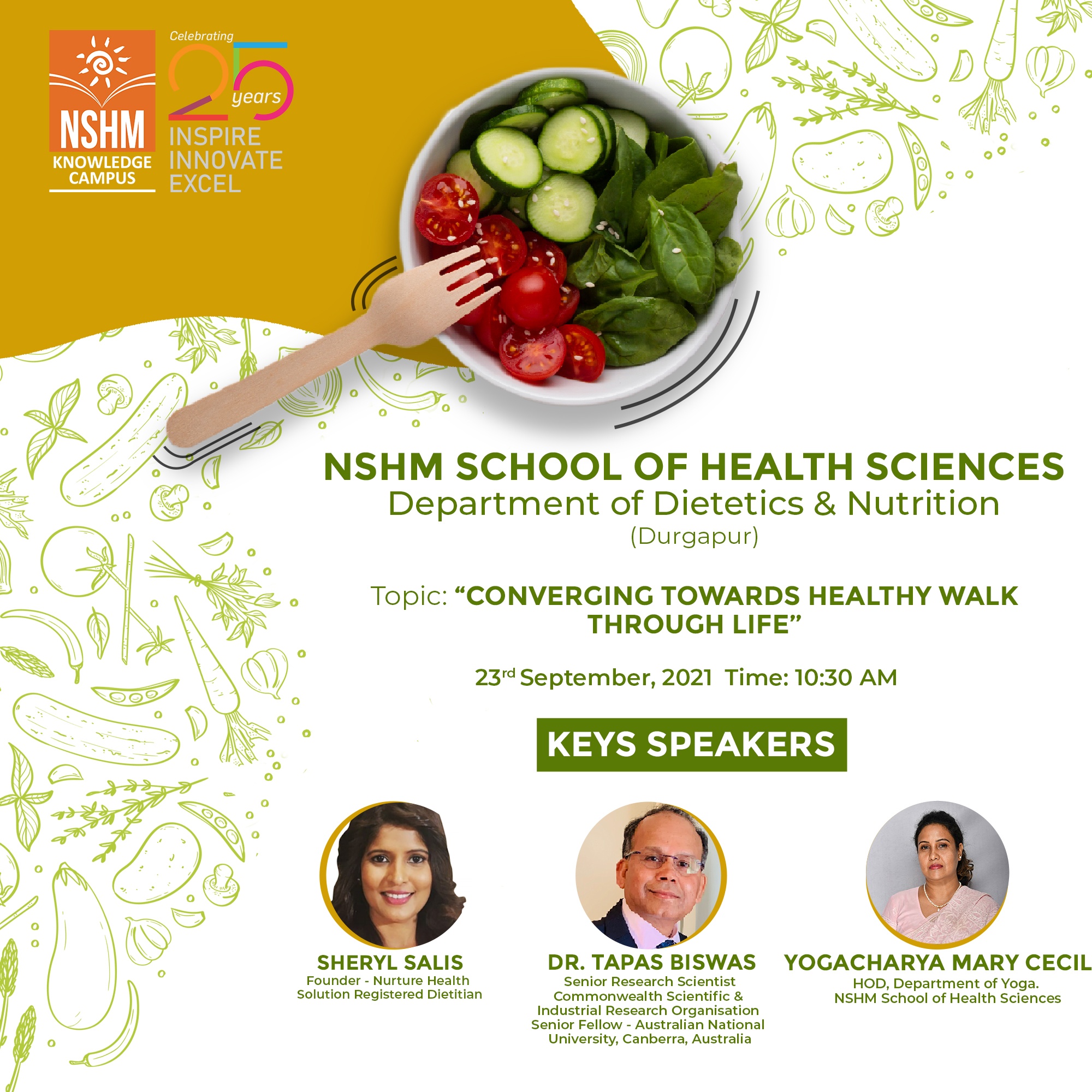 Programme Schedule of National Nutrition Month Celebration 2021
Theme 2021: "CONVERGING TOWARDS A HEALTHY WALK -THROUGH LIFE"
Thursday, 23.09.2021
Sl.

No.

Program

Time

1
Address by anchor
10:30 AM to 10:32 AM

2

Speech by Cecil Sir

10:32 AM to 10:40 AM

3

Speech by Maity Sir

10:40 AM to 10:45 AM

4

Video on plantation of Sapling

10:45 AM to 10:55 AM

5

Healthy recipe contest, demonstration and display

To participate, register here –

10:55 AM to 11:25 AM

6

Judgement session (Mary Cecil & Sheryl Salis)

11:25 AM to 11:45 AM

7

Presentation/Speech by Dietitian Sheryl Salis

11:45 AM to 11:55 AM

8

Video on enactment of Food Fads (Myths & Facts)

11:55 AM to 12:05 Noon

9

Speech by Dr. Tapas Biswas on "Water – the unforgettable nutrient"

12:05 Noon to 12:50 PM

10

Nutri-Quiz (Quiz on Nutrition)

12:50 PM to 01:25 PM

11

Vote of thanks

01:25 PM to 01:30 PM
Speakers
Dr. Tapash Biswas
Dr Tapas Biswas is a Senior Researcher with the CSIRO and a senior academic fellow with the Australian National University, Canberra Australia. He has 34 years of experience in research, teaching and consultancy in global water resources management with special emphasis on improving water quality for environment and human use. Dr Biswas' current work with on-ground monitoring sensors forms a critical part of the Australia's first satellite mission, to monitor water quality from space. He is a fellow of the International Organisation for Biotechnology & Bioengineering and executive member of the Hydrological society of Canberra and working group member of the International Commission on Irrigation & Drainage. In social life, he is actively involved with the welfare of the Indian diaspora in

Australia and works closely with Indian NGOs for welfare work in India.

Ms. Sheryl Salis

Sheryl Salis is the Founder and Director of Nurture Health Solutions and is a Senior Registered Clinical & Sports Nutritionist, Naturopath, Certified Diabetes Educator, Wellness Coach, Public Speaker, Lecturer, Health Writer & Certified Insulin Pump Trainer. She has been instrumental in setting up departments for Diabetes and Wellness Management at Hospitals and Corporate houses. Over the years, she has trained over ten thousand Patients & Healthcare Professionals (Nurses, Nutritionist, Paramedical staff and Doctors) in Diabetes Management. She is actively involved in academics training healthcare professionals. She is the Director for the Government of India Diabetes Educator Program. She has also been actively contributing to the print media and has authored six patient education booklets on Nutrition basics, Diabetes, Carbohydrate Counting and Breakfast Choices of India. She has written the food guide for Mumbai titled "Your Family Guide to Healthy eating and living". She also

appears on "The Health Magazine" show as an expert nutritionist on the FOOD channel.

Guest-of-Honour

Yogacharya Mary Cecil

Yogacharya Mary Cecil is the HOD, Discipline of Yoga, NSHM Institute of Health Sciences. A practitioner & teacher of yoga for over 22 years, she started her yoga journey from Bihar School of Yoga, where she presently pursues studies in Raja Yoga (yoga of meditation).

She has completed YIC CYAI & MSc in Yoga securing a First Class with Distinction from SVYASA Yoga University, Bangalore. She specializes in Therapeutic Yoga from the same university.She also holds a MA in Economics from Annamalai University, Chennai.

She studies Ashtanga Vinyasa Yoga at the prestigious KPJAYI Mysore under the tutelage of Saraswathi Jois (daughter of Pattabhi Jois). She has completed RYT200, RYT300, E-RYT 500 Yoga Alliance USA from A1000 yoga, Bangalore (now taken over by Cultfit).

She has studied Kundalini Yoga as taught by Yogi Bhajan Kundalini Research Institute USA from his direct disciple Sarbji. She has studied Vedic Chanting under the tutelage of Swami Prajnatmatananda ji Maharaj who was heading the Dept of Indology at Ramakrishna Institute of Culture, Kolkata

She has studied Ancient Hindu Scriptures from Harvard Universities online program. She has been the Senior Yoga Teacher at the prestigious Health Club 'Solace' in Kolkata. She is an active member of the WICCI West Bengal Yoga Council.

She is the Yoga ambassador of FitExpo, the largest fitness expo of Eastern India. She collaborates with ace golfer Indrajit Bhalotia and trains golfers at TollyClub under his Academy. She has trained internationally and collaborates with New-York based Yoga Teacher Eddie Stern, who is famously known as the yoga teacher to Dr Deepak Chopra.

She has conducted sessions in Corporate Houses and has remained Personal Trainer to a list of Tollywood actors, industrialists and Sportspersons. In her free time she involves actively in raising

awareness for causes affecting the underprivileged society especially children & women.