Cognizance the Annual Teacher's Meet 2018
December 05, 2018 at 10:00 AM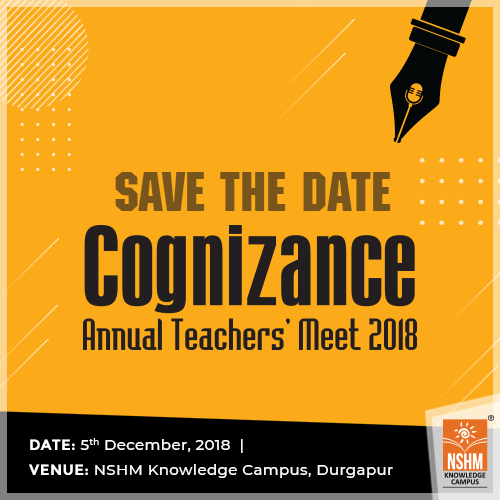 Join us for
Cognizance
the Annual Teacher's Meet 2018
at NSHM Knowledge Campus, Durgapur
A comprehensive knowledge sharing platform where some of the biggest names in industry and academia come together to share their pearls of wisdom. Here is the detailed schedule on what this event has to offer.
Topic 1: 'Why is ancient Indian Science and Technology relevant today?'
Dr. D. P. Mishra, Professor, Department of Aerospace Engineering, IIT, Kanpur
Topic 2: 'Digital Disruption in Media & Design'
Shri Sujoy Roy, Creative Director, Ogilvy & Mather Advertising
Topic 3: 'Personal Stress Management'
Dr. Anuttama Banerjee, Consultant Psychologist and Academic Mentor
The Seminar will be followed by a luncheon
An interactive post-lunch session will be hosted on 'Emerging Opportunities in Higher Education'
Date– 5th December
Time – 10.30 am to 3.30 pm
Venue– NSHM Knowledge Campus, Durgapur, Arrah Shibtala, via Muchipara, Durgapur 713212
RSVP-9800011235
Email–md.seemab@nshm.com
Kindly send us your nominations either by email.
Limited Seats are available. Registration will be done on first come first serve basis.