AD-ADDA @ NIMD
April 01, 2014 at 13:07 PM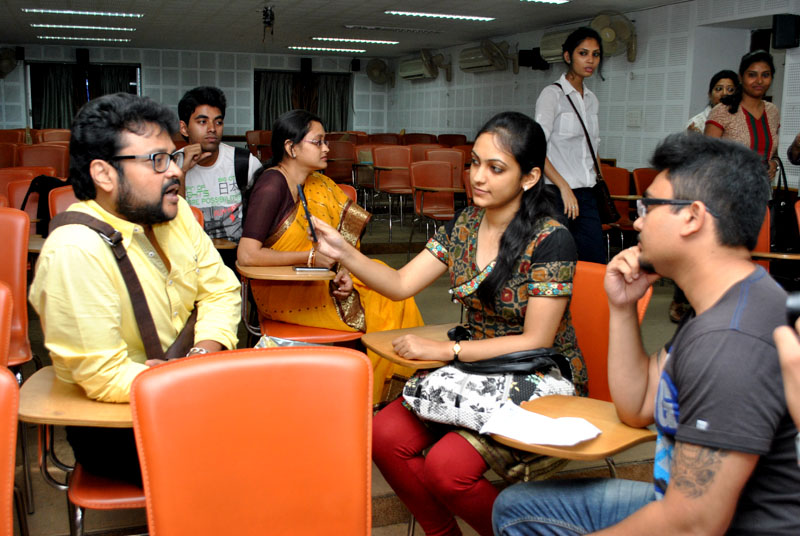 Student members of ad-adda club organised an intra-college quiz competition (BRAND STORMING); with the support and guidance from teachers like Madhupa Bakshi, Anindita ma'am, Manali ma'am and Arindam sir. This quiz was held over two days- 12th March,2014 and 1st April,2014. It had groups participating from various portals of NSHM; like BBA, M.Pharm, B.Pharm, BCA, BMS, BSCM, BHM. Each group consisted of 2 students.
The selection round was held on 12th March and 10 groups were selected according to their scores. These groups further competed on 1st April; when the final quiz was held. The questions on both the days were related to 'logos', 'taglines', 'brand ambassadors' and 'TVCs'. However, the final round on 1st April was a creative one. In this, the 5 finalist groups were supposed to create advertisement on either of the two topics- "Blood Donation" or "Go green". They could make a print ad i.e. A rough sketch; or they could prepare a TVC and enact it to make the judges understand. On the basis of evaluation from the judges and the groups' previously earned points; the top 3 positions were determined.
These groups were:-
(1st) Amrit Ayush Chatterjee & Oieshie Nag- BSc.Media 2nd year
(2nd) Shristi Dhandharia & Vrinda Ganeriwala- BSc.Media 3rd year
(3rd) Raghav Chamaria & Madhushri Banerjee- BSc.Media 1st year

The prize distribution for this competition was done later on 4th April,2014 by Mr. Kanchan Dutta- founder and CEO Innercircle & the Calcutta Ad club president who was the guest.  Mr. Dutta and NIMD Director, Dr. Buroshiva Dasgupta,  gave away the prizes and certificates to the winners and participants. The top 3 winning groups got trophies with certificates,  and all 10 qualifying groups were awarded 'certificates of participation'.  Guests, audience and participants were provided with refreshments after the event.

Ad-Adda @ NIMD

Ad-Adda @ NIMD

Ad-Adda @ NIMD

Ad-Adda @ NIMD